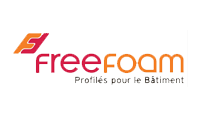 Freefoam is the leading manufacturer of a wide range of innovative uPVC fascia and soffit products. We also produce gutter systems, external cladding and interior panelling systems for the building industry in Ireland, the UK and Mainland Europe.
Since trading began in Cork, Ireland in 1990, Freefoam has grown into a multinational organisation operating from multiple sites across the UK, Belgium, France and Germany. The company was founded by entrepreneurs Tony Walsh and George Cronin, who saw market opportunities within the building industry and the potential for large-scale PVC extrusion. Freefoam is proud to still be an independently owned company today.
Freefoam provides a fast and efficient service to all of our customers across Europe. We continue to develop a strong commitment to staff development, quality control and sustainable production. Our site in Northampton operates to ISO standards 9001 and 14001 to encourage continuous improvement across all operations, processes and procedures. This ensures our customers receive products of only the highest level of quality.