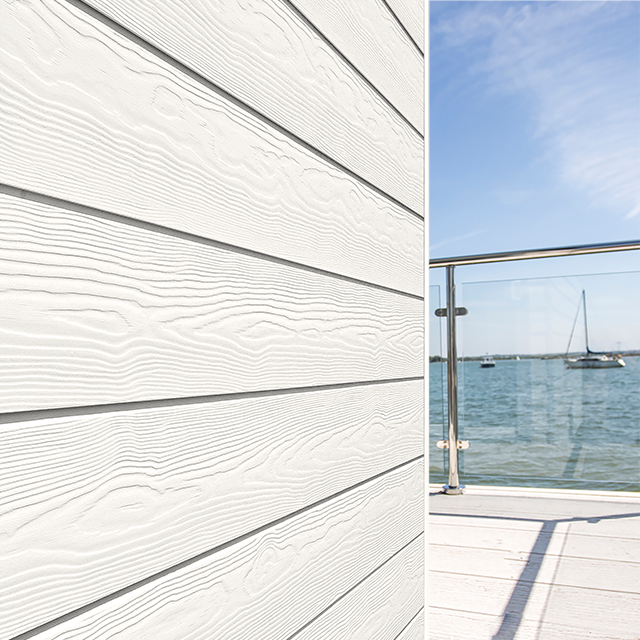 Can I order a sample ?
Yes, please contact one of our offices and we can organise these for you.
Can you estimate my project ?
We can provide an estimate but it is the responsibility of the purchaser to ensure that all of the materials are to your requirement. There are very helpful tools available online.
What is Fibre Cement weatherboard ?
Combining the best of science and nature, fibre cement is a sustainable material made of cement, cellulose, sand, synthetic fibres and water, allowing for strong and high-performance cladding that adds value to your building.
What is Cedral's fire performance?
Cedral planks have limited combustibility and therefore does not spread fire (Class 0 and EN 13501-1 fire performance classified to A2-s1, d0)
Do you have a site storage and fixing guide ?
Yes, we do. Cedral needs to be stored under cover and it is recommended to keep them on the pallets which they were supplied on to avoid site damage. Installation videos are also available too.
Are these products returnable ?
If the items are in the stocked range and have no damage then we will consider this but re-stocking charges would apply on returning these to your nearest branch.
Weatherboards are popular and the market share is growing for this easy to install façade.
There is a huge choice of colours available, in a woodgrain or smooth finish.
Large stocks of boards, associated trims and accessories are kept making for a prompt shipment to any site across the UK. We also stock suitable membranes and battens making Watts Roofing a one-stop shop for your project. One purchase, one delivery, one invoice, saving you money and keeping it environmentally friendly.
As an independent merchant we have access to Etex Cedral (LAP and Click), James Hardie (HardiePlank and VL) or Cembrit plank materials.
Colour Options