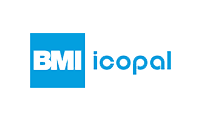 BMI Icopal is the world leader in building protection from the roof right down to the basement. From their UK headquarters in Milton Keynes and through their national network of over 2,000 stockists they offer the UK's most complete range of construction membranes, support services and insured roofing guarantees.
BMI UK & Ireland was established following the coming together of Redland and Icopal and is part of BMI Group - the largest manufacturer of flat and pitched roofing and waterproofing solutions throughout UK and Europe with a significant presence in parts of Asia and South Africa. With more than 11,000 employees in 40 countries, the Group runs over 150 production facilities worldwide and is headquartered in London.
With a UK manufacturing heritage in roofing dating back to 1837, BMI produces and supplies a comprehensive range of concrete, clay, metal and reconstituted slate tiles, reinforced bitumen membranes, single-ply systems and liquid waterproofing solutions as well as an extensive collection of fittings, components and building membranes. In the UK and Ireland these are sold under some of the market's best-known brands including Redland, Icopal, Cambrian, Rosemary Hydrostop, and Wolfin.